Expert Geotechnical Solutions and Products in Missouri and Illinois
Serving Greater St. Louis, MO and Springfield, IL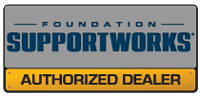 Foundation Supportworks by Woods provides exceptional structural support solutions for new and existing foundations. We're foundation repair experts who specialize in foundation support and repairs, providing services for commercial, residential, industrial, government, and municipal applications.
At Foundation Supportworks by Woods, we're committed to fast, friendly, and reliable service. Our customers have appreciated our punctual, organized, and professional work. We are determined to be there for your structural and foundation repair needs.
As members of the Foundation Supportworks international network of foundation repair contractors, we provide our customers with top-notch products and customer service to ensure customer satisfaction.
Contact us today for your Free Estimate for foundation repair, as well as any questions you may have about product availability, pricing, or technical information.